So you were involved in a car accident and as stressful as that already is, you now have to deal with terrible back, neck, shoulder, chest, or head pain as a result! There are so many things that you have to deal with now, and you might not even know where to start. If you're experiencing back pain, after car accident here are the things you need to do next: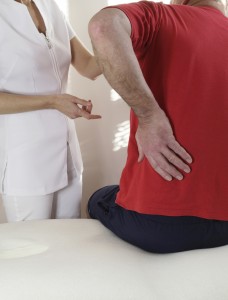 Get checked out immediately. Even if you don't feel any, or mild pain at first, you should still get checked out as a precaution because many symptoms of injury don't manifest right away. Sometimes you'll experience pain caused by the accident weeks or months down the road. We know that your health might be one of the last things on your mind after a collision, but nothing is more important than making sure that you're OK first. Cars can always be fixed or replaced, but bodies are not that simple.
See a trained chiropractor. If your first instinct is to see a doctor, that's great! However, many doctors aren't trained in the biomechanics of the human body, and they don't treat car accident injuries every single day. You need someone that is able to perform orthopedic, neurological tests, and functional tests that assess soft tissue damage, muscle strength, range of motion and joint and nerve function. A chiropractor who is trained in auto accident injury detection will be able to give you the care you need or refer you to the proper health care providers. If you've already seen a doctor, it may be beneficial to also see a chiropractor, so that we can make sure that nothing was missed. "you may be sore for a few days, and you should be fine." is a common phrase heard by patients after seeing their primary doctor who does not treat such whiplash injuries regularly. Even if you've been to the hospital, note that emergency room technicians, like doctors and nurses, are trained to detect life-threatening conditions and provide appropriate care as needed. What you need after a car accident is care and attention to your subtle, but serious soft tissue injuries.
Then you can see an attorney. It's important to be checked by a physician first, so that the findings from the exam can give you the information you need to decide if an attorney is necessary in your case. At Parkside, we can refer you to a qualified and successful attorney if need be.
Your insurance company. Your insurance company may be badgering you to settle your case. Do not sign, settle or close anything until your injuries have been evaluated. This is very important because if you settle before your injury is detected or resolved, you will be completely responsible for paying out of pocket for your care.
Treatment
You have many options when dealing with your back pain. You can ignore it or put yourself on bed rest, but these may prolong the problem. Some people silence their back pain with medications and pain relievers, but they may have unpleasant and unwanted side effects. Chiropractic care can help relieve your back pain because we try to find the underlying biomechanical causes of it. Specific chiropractic adjustments can help with improving spinal function and restoring the way that your spine works, so that any soft tissue damage can heal, nerve involvement can be reduced, and pain will cease. By using gentle and soothing chiropractic techniques, we can adjust the positions that cause you the most pain. Physical therapies including deep tissue trigger point therapy, can also help to restore proper joint motion and function and allow tissues to heal properly.
Pain of any kind is not normal, and ignoring your back pain or not taking it seriously will hurt you more in the long run. Chiropractic care works because it's an effective way of listening to your body and helping it return to normal health through natural adjustments and functional techniques. To date, Parkside has been successful in treating hundreds of patients with back pain, whiplash and other car accident related injuries. Our primary concern is giving you the care you need to return to optimal health and submitting required medical reports properly to the insurance companies. Receive car accident injury care from us, and we'll help make this stressful occurrence easier on your mind and your body. Schedule a free auto accident exam with us today, so that we can put your back pain to rest for good.