Laser Therapy in Parkland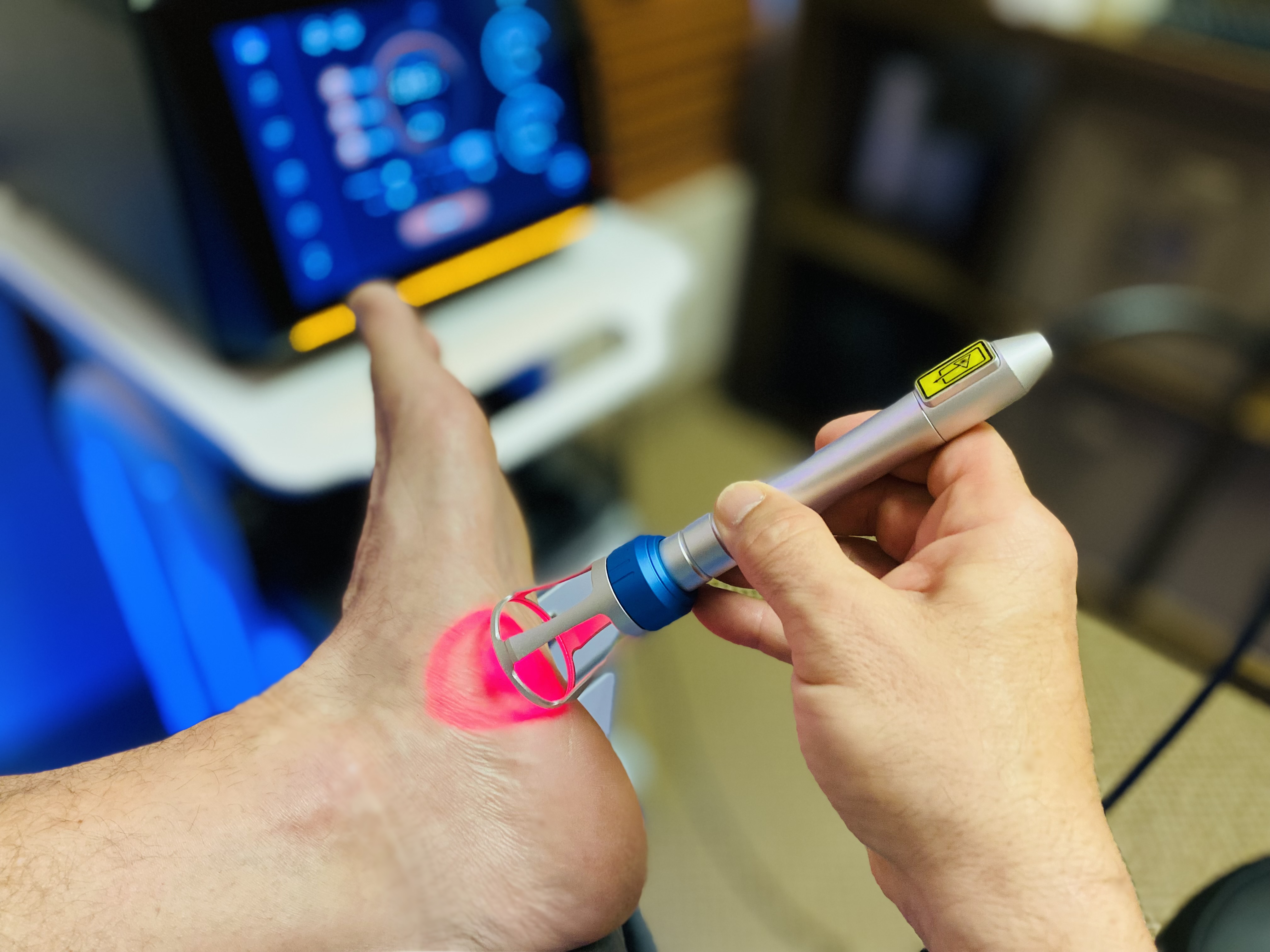 Class IV laser therapy is used to stimulate tissue and enhance its metabolic activity, so tissue and cells heal faster. At Parkside Health & Wellness Center, we are pleased to offer this safe and effective therapy that combines three wavelengths with a combined power up to 45 watts. The laser is extremely penetrating, and it can stimulate various types of tissue because of the wavelengths.
How Does It Work?
Laser is energy in the near infrared range, so it is virtually invisible to the naked eye, but can penetrate several inches into the living tissue of both humans and animals. It stimulates healing by a process known as photobiostimulation. This is best compared to photosynthesis in a plant. Photons are directed into the tissue via the laser and stimulate unhealthy or damaged cells only. The laser has virtually no effect on normal healthy cells.
Photons stimulate the cells, especially the mitochondria of cells, which is the energy powerhouse of a cell. This increases cellular metabolism, stimulating faster cellular repair and healing.
What Are Some Benefits?
Laser therapy decreases pain, increases circulation, improves nerve function, and speeds up healing of injured tissue.
Conditions It Can Address
Here are some common complaints for which patients seek this service:
Tendinitis in virtually any area
Plantar fasciitis
Tennis elbow
Knee pain
Golfer's elbow
Back pain
Ligament injuries
Meniscus injuries of the knees
Shoulder pain (e.g. frozen shoulder)
Bursitis of the hip and shoulders
Disc herniations and bulges
Nerve entrapments
Most soft tissue injuries
Sprains and Strains
Frequently Asked Questions
What does a laser treatment feel like?
Each session should feel very soothing. The laser has a warm penetrating affect that eases pain and inflammation, while it stimulates damaged tissue to heal faster.
How many laser sessions will I need?
The size and length of a care plan depends on the person, their health status, the severity and duration of their condition, as well as how quickly they respond. Some people respond faster and others slower.
A typical session can be anywhere between three to twelve minutes.
Here is what some of our patients have to say
Schedule an Appointment
Discover how laser therapy may benefit you. Contact us today to book an appointment!
CONTACT US
---
Laser Therapy Parkland, Coral Springs & Coconut Creek, Coral Springs, Coconut Creek, Deerfield, Boca Raton, and Margate FL | (954) 340-7545